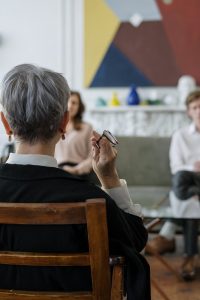 When initiating the divorce process, selecting the right attorney may seem challenging and stressful. Finding someone who aligns with your process choice and objectives can help the process move more smoothly. Just as there are different process choices for your divorce, there are different attorney styles. Having a consultation with an experienced family law attorney helps to determine whether the attorney has the requisite experience for your matter and whether he or she will conduct the negotiations in a way that comports you're your intentions and goals.
There is not a one-size-fits-all approach when it comes to a legal matter, including divorce. Parties should ideally agree on the process that will promote a mutually beneficial outcome. In working toward that goal, finding the "right" attorney is also an important decision. In choosing an attorney, some of the considerations that clients can keep in mind are outlined below.
Process Choice
As I have discussed in previous blogs, there are different options available in how a divorce is finalized. If you know which process you would like to use for your divorce, it is important to ensure that the attorney you choose is experienced in that process. Some attorneys may focus their practice on litigation and others may focus on mediation and/or collaborative law.  Some attorneys may work exclusively in one area/process choice. If you are unsure of the process that will work best for your needs, your attorney should be able to explain all of your process options and put you in the best position to decide the best process for your situation.
Accessibility and Communication Preferences
The divorce process is stressful even under the best of circumstances. You should be confident that your attorney would be there when you have questions and/or concerns. Everyone has his or her own preferences in terms of communicating (e.g. emails, calls, remote meetings), so it is important to work with an attorney that fits your communication style and response time.
Some clients prefer blunt, direct communications, whereas others prefer a more finessed approach. This is where having a consultation with a prospective attorney can be very beneficial as it will allow you to get a feel for the attorney's style and give you an opportunity to decide if it fits with your own needs.
We are living in challenging times.  If you have decided to separate and/or divorce, it is essential to choose the right process and an attorney that will make sure you have the information and support you need to make decisions.  The process should honor how you want to conduct the negotiations with your spouse.   These choices impact whether the outcome is viewed as a zero sum game or a cooperative effort that considers the parties and their children in making the crucial decisions that lead to a global settlement.