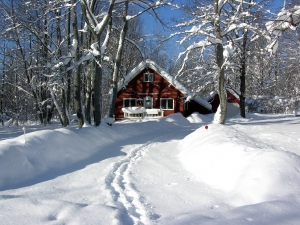 A simple Internet search of "National Divorce Month" will result in a stack of articles discussing how lawyers encounter a heavy volume of calls right after the holidays, giving January the unfortunate moniker of 'National Divorce Month.' 2014 has been no different. Last month we once again saw divorce attorneys writing about how the phones began to ring off the hook once the holiday season officially ended. On the surface, it makes sense. Many couples choose to prolong beginning the divorce or separation process until after the already busy and stressful holidays are over. It can be especially difficult for couples with children, because parents are hesitant to interrupt the child's holiday with news of a divorce. Many people tend to look at the New Year as a "fresh start" and a chance to begin again, so choosing to begin the divorce process in the New Year seems like the best alternative.
Is there ever really a "right" time to initiate a divorce or separation? Many articles written about January divorces point to the many reasons why people choose to begin the process at that time, and why it makes sense to wait until after the holidays. The most important thing, though, is for the spouses to evaluate their own marital life and family. Several of my blogs have made mention of the fact that every family is different and thus, every divorce is also different. This rings true no matter what the highest divorce month may be.
The decision to divorce or separate is an important one, to say the least. Every couple has considerations to keep in mind before deciding if divorce is the right path to take. In making an assessment of the marital life as well as family life, couples should make sure to have open and honest communication, and not rush the process. Some couples find it helpful to sit down with a couples' counselor or mediator in order to really get everything on the table. A very important aspect of assessing the situation is to become educated on all of the options available. Taking an active role in decision-making is helpful in reaching decisions about what to do.

There are many options and process choices. For example, a couple may want to consider the possibility of a post-nuptial agreement. This type of agreement encourages communication about finances and quality of life issues. Many couples see separation or divorce as the only option. If the discussion is leaning more toward divorce, the spouses should make sure that each person understands how each process choice works and what to expect. Many people view divorce as a highly contentious matter that must be brought into the court system. Mediation and collaborative law are process choices that encourage a cooperative environment and can help to reduce (or at least not escalate) hostility in the household. This is particularly important when it comes to the children.
While couples generally understand that choosing to divorce is not an easy decision, creating an action plan for reaching a reasonable settlement can help to open possibilities for a healthy transition. What works for one family may not be the right path for another. While there is no one "right" time for everyone, working with an experienced professional can open the door to new ways of thinking and positive solutions.