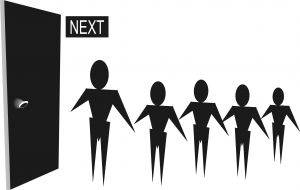 Many people reinvent themselves in one way or another during and after the divorce process. For some, a move to a different place is in order, for others even a simple revamping of their wardrobe or new look helps as a new beginning. However, some people are forced to deal with the stressful task of reentering the workforce, when they might not have worked outside the home for an extended period of time during their marriage. Although both men and women can experience this, there are a higher number of women that need to reenter the workforce after divorce.
While it is no secret that the job market is less than stellar, there are certain things that people can keep in mind that may make the job search a little less stressful. A good first step is to clarify goals and priorities. The next step is to make an honest assessment of experience and skills. It can be very helpful to enlist the aid of a qualified professional, such as a vocational counselor or career coach, to help you examine your top interests, the skills you want to employ, and the best work environment. They can also help you assess projected income and benefits. Gaining information about interviewing, resume preparation and internet research will help you plan for a smart transition. A good way to find a vocational counselor or career coach is to ask your matrimonial lawyer for a referral.
Social media is also utilized by the majority of people. Many of us are familiar with the friend requests, constant invitations to use a certain app or game, and the countless photo albums that our family and friends post online. However, using social media as a networking tool can be incredibly valuable in the job search. Depending on your background, reaching out to people you know in your own field can help get you in the door for interviews and even jobs. If you don't necessarily have a job history and are looking for your first job, it will be still be useful to reach out to people that you know – they may be able to offer you some insight into how to decide what to apply for, and how to sell yourself in the interview.
Speaking of social media, technology itself has evolved immensely over the years. Depending on when your last job was, there is undoubtedly at least some new techniques that are being used with a newer technology. It is important to not let yourself get intimidated by this! You probably know at least a few people who are more than willing to "show you the ropes" with some technology, and there is a slew of online courses offered by companies as well as community colleges so that you can become more versed on different software and processes.

This brings me to my next point – applying for the job. One big source of stress for any jobseeker is going through numerous job postings and job boards while looking for the "right fit." It is important to keep in mind that many job descriptions are general expectations and requirements for the position. Even though you might not have the years of experience the description "requires," many employers are willing to look past that and take into account what you can bring to the table. This also goes for other items on the job description. Don't feel overwhelmed or self-conscious because you haven't satisfied every point on the list – in most cases, this job description encompasses a candidate that may not exist exactly as described.
With all this in mind, it is also important for women reentering the workforce to manage their expectations. You may want to jump into a full time position, but depending on other things going on in your own life, you might find it a better option to ease back into working. Whether it is through a part time position or a temporary job, easing back in could help you gauge what you really want to do. A part time position or temporary job can also allow you to brush up on certain skills and build more experience before you apply for a full time position.
The job search is stressful for everyone, especially those people reentering the workforce after a long period of time. Although it may seem overwhelming, it is important to keep your confidence high and not to be afraid to apply for the position you want. Researching and spending time on your cover letter and resume will be incredibly beneficial. If you do have prior work experience, you might want to consider seeking out a recruiter to assist in your job search.
With the divorce process completed, it is important to allow yourself a fresh start and new beginning. Rejoining the workforce will be a challenge, but it will be rewarding and worth the hard work. With the right guidance, combined with networking, research, and your own confidence, reentering the workforce will be more than possible.